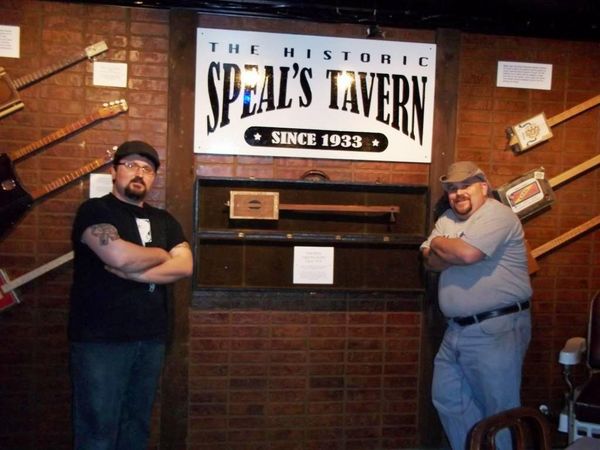 The Cigar Box Guitar Museum
Presented by Shane Speal and The Speal Family
FREE and open to the public at Speal's Tavern, 1850 Lions Club Rd., New Alexandria,, PA.
Media inquiries, please contact Shane Speal: shanespeal@yahoo.com

The walls of Speal's Tavern have been transformed into a unique display of handmade cigar box guitars, historical photos and art. One customer called it "New Alexandria's homemade Hard Rock Cafe." The collection of over 40 cigar box guitars displayed at Speal's Tavern were built by craftsmen all over the country and range from simple, one-string primitive instruments to complex, electrified guitars with frets, double-necks and whammy bars.

Cigar box guitars are the first instruments played by many blues and rock legends such as Lightnin' Hopkins, Carl Perkins and even Jimi Hendrix. The legend is told when poor folk wanted to play guitar but could afford an instrument, they would craft one from an empty wooden cigar box, a discarded stick and baling wire for strings. This poverty instrument is witnessing resurgence in modern times with the success of old time music such as O Brother Where Art Thou and the do-it-yourself spirit brought on by the Recession.
  Updated For 2012  
The Speal's Tavern Cigar Box Guitar Museum has been expanded and improved for 2010. The museum now sports over 40 handmade instruments, cigar box amplifiers, antique photos and artwork along with historical facts and discoveries. The 2012 exhibit will be unveiled this Saturday, February 18 at 6pm followed by a special Mardi Gras concert by museum creator, Shane Speal.
Shane Speal first debuted the Cigar Box Guitar Museum in October of 2010 with a collection of about 30 handmade instruments. In the newest incarnation, Speal and co-curator, Al Hamilton have installed improved museum lighting, historical placards and one of the largest collection of cigar box guitar ephemera, dating back to the late 1800's. Visitors will learn the stories of many great blues, rock and country stars who got their start on cigar box guitars.
The centerpiece of the museum is a 102 year old cigar box guitar from 1910.
The rare find was a donation from John "Reddog" McNair, a New Orleans instrument builder and historian who currently resides in Puerto Rico. It's crude form features only a single string and is very similar to instruments performed in Vaudeville theater at the turn of the Century.
Other instruments include double neck cigar box guitars, instruments made from license plates and a solidbody guitar made by Ted Crocker, the luthier behind the guitar in John Sayles blues movie, The Honeydripper.
The museum also welcomes CBGitty.com as a major sponsor of the exhibit. 
CBGitty.com is the world's largest supplier of cigar box guitar parts, kits and instrument supplies.  Along with promotional support, CBGitty.com has donated a vintage Ludwig drum kit to the Speal's Tavern stage for use during the Thursday open mics and Friday blues jams. 

About the Curator: 
The Cigar Box Guitar Museum was compiled and documented by Shane Speal, a York PA musician billed as "The King of the Cigar Box Guitar" and central figure in the upcoming PBS documentary, Songs Inside the Box. Shane Speal built his first cigar box guitar in 1993 and has been performing with them ever since. He brought the instrument into a new renaissance with several websites he created including www.CigarBoxNation.com.  Speal has recently co-authored the Fox Chapel Publishing book,
Handmade Music Factory
which features cigar box guitar plans and history. 
Support and sponsorship by
CBGitty.com
, the world's largest supplier of cigar box guitar parts.
 Top of page picture:  Cigar Box Guitar Museum curator, Shane Speal and co-curator, Al Hamilton.  Photo by Dan Speal
---
Speal's Tavern is greatly indebted to our friends who have helped us make the greatest blues bar in the area:


...






Speal's Tavern
Off of the intersection of Rt.119 and Rt. 22 in New Alexandria, PA
We're open 3pm until 2am Tuesday - Saturday.

Phone 724-433-1322